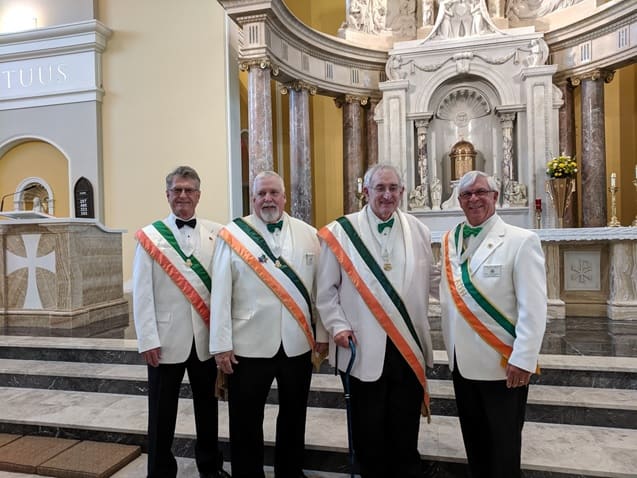 John "Jay" McCarthy
President
Jay is a native of Upstate New York and the oldest of 9 children. Now residing in Loudoun, VA, Jay has been married for 44 years and blessed with 2 daughters and 6 grandchildren. No military experience. Jay has been an active Knight of Columbus for the past 29 years (Past Grand Knight, Past Faithful Navigator, and 3 years as District Deputy) and an active Hibernian since 2007, having served as President of the Col. Thomas J. Cunningham Jr. Division Jr. as well as State VP, Secretary and Treasurer for the Virginia AOH.
Jay is currently retired "working" as a Starter/Player Assistant at Lansdowne Golf Club having been a Senior Engineering Project Manager in the MSS (Managed Security Services) Group at Verizon. Jay's relationship with Verizon began 16 years ago as part of the NetSec organization where Jay was the Director of Procurement, reporting to the CFO. Jay's 35 years of business experience prior to his relationship with Verizon involved the IT, Biotech, Analytical Instrument, Chemical and Truck manufacturing industries.
Jay started his career as an Internal Auditor then moved into various Financial and Operational roles as either COO or CFO. During the late 1990's thru 2004, Jay was very involved with mergers and acquisitions and fund raising for Start-Up IT related firms in both the commercial and federal environments. Jay earned his degree from Bowling Green State University – BS Degree in BA/Accounting in 1974; ITIL Certified in 2006 and obtained Security Clearance in 2006.
Brian Kiernan
Vice President
Brian is a first generation American of Irish decent. Brian's father and mother immigrated from Longford and Claire respectively. Brian grew up in New York City and is a product of parochial education. Brian graduated Manhattan College in 1975 with a Bachelor of Engineering degree in Chemical Engineering.
Brian moved to Richmond Virginia in 1978 to accept a position with then Philip Morris Inc. Brian worked in manufacturing, applied science, and engineering holding several positions of increasing technical and administrative responsibility including Principal Engineer. Brian was Manager of Environmentally Regulation and Permitting for Philip Morris USA. Brian has been granted several US and International Patents. Brian retired from the company after 33 years of service.
Brian is the proud father of his son, an Eagle Scout, and two daughters. All 3 graduated from University of Virginia. Brian continues as an active Scouting Adult leader with the Heart of Virginia Council Cardinal District and Troop 776.
Brian's elder daughter is a Virginia Asst. Attorney General and mother to his first grandson in October of '18. Brian's son Brian was awarded his Master's in Operations Research from Northeastern University this year and his younger daughter has just begun her Master's studies at American University in Antiterrorism the and Homeland Security Policy.
Brian joined the Knights of Columbus in 1989. He is a Past Grand Knight, a Past Faithful Navigator, and former State Council staff and continues as a Council officer. Brian is a ceremonialist for the Order and his teams will celebrate 25 years of service this year.
Brian was recruited into the Ancient Order of Hibernians in 2007 by Past Virginia State Board President Pat Naughton. Brian is a Past President of the Major Dooley and immediate past State Board Historian. Brian captains his Division's Shamrock Degree team and fills several appointed Divisional positions including Auditor. Brian was privileged to be granted membership in the Brian Boru Major Degree team.
Robert A. "Bob" Fay
Secretary
Bob is a native of Brooklyn, New York, and the youngest of 4 children. He attended St. Brendan's Catholic Elementary School and then Nazareth Catholic High School, staffed by the Xaverian Brothers, in Brooklyn. He now resides in Potomac Falls, VA, with his wife, Linda. They are active Parishioners at Our Lady of Hope Church in Sterling, VA.
Bob and Linda have been married for more than 30 years, and are the proud parents of three children, two boys and a girl. Both of Bob's sons are active members of the AOH. His oldest son was a commissioned U.S. Naval Officer and his youngest son is actively serving in the U.S. Air Force.
Bob graduated from SUNY Maritime College in New York with a commission in the U.S. Navy and a U.S. Coast Guard License as a deck officer in the U.S. Merchant Marine. He sailed on numerous American flagged vessels in worldwide service and served for fifteen years as Captain of a Fast Sealift Support ship in support of U.S. military operations around the globe, including Desert Storm and operation Restore Hope to Somalia.
Bob retired from active sailing in 2002 and came ashore to work for an international ship registry firm based in Reston, VA, providing his experience in support of more than 3500 commercial vessels operating around the world.
He is currently a Senior Vice President in charge of Maritime Operations assuring compliance with a multitude of international safety and pollution prevention regulations.
Bob joined the AOH, Col. Thomas J. Cunningham, Jr. Division, when he moved to Virginia in 2003, and has held many appointed and elected positions there including Historian, Charities Chairman, Vice President, and President in 2014/2015. He was awarded the Hibernian of the Year award by the Virginia State Board of the AOH in 2013.
Bob has also been an active Fourth Degree member of the Knights of Columbus and has held many positions at the Council and Assembly levels including Faithful Navigator.
Vince Eikmeier
Treasurer
Vince is a native of Central Minnesota, raised on a dairy farm near the town of Rockville. As the second of nine children, he attended St. Boniface Grade School and High School, being part of the last graduating class of that High School in 1978.
Vince attended the St. Cloud Business College, left school to join the US Navy and volunteered for Submarine Duty serving for 8 years, 5 years aboard the USS Andrew Jackson, SSBN 619, as a First Class Electronics Technician in the Navigation Division.
Vince married the love of his life in July, 1970, and is blessed with two children, son Vince Jr. resides in the Richmond area and daughter, Jennifer lives in Buckingham County with her husband and two sons. Vince and Linda are active members of Our Lady of Lourdes Church in Henrico County where Vince is a regular cantor and both sing in the adult choir.
In 1978, Vince accepted his honorable discharge and started work for Storage Technology Corporation in Virginia Beach. At StorageTek, he rose to Senior Field Engineer and then to Technical Specialist and Field Manager for a period of 3 years. After StorageTek was bought by Sun and then by Oracle, Vince completed 37 years in that company in October of 2015. He is now officially retired.
Vince joined the Knights of Columbus in 1979 and has held the offices in Council 395 of Grand Knight, Faithful Navigator, and 3 years as District Deputy. In 2007/2008, Vince accepted the appointed possition of State Membership Director, attaining 138% of the goal that year. Vince continues to serve on the K of C ceremonial teams for the First, Second, Third, & Fourth Degrees. He currently seves as the Director of the Cross & Dove Choir of the Bernice C. Williams Fourth Degree Corps.
Vince was recruited into the AOH in 2007 by Past State President, Patrick Naughton. He has served as Vice President and President of the James H. Dooley Division in Richmond. Vince also serves on the Division Shamrock Degree Team and leads in all the singing during the division meetings. He is very proud that his mother's maiden name was McDonough and that he was elected Gael of the Year by the Dooley Division in 2018.
As a member of the Brian Boru Major Degrees Team, Vince has played a part in the exemplification of the Major Degrees to many Hibernians in these past few years in St. Louis, MO., Helena, MT., and several cities in the Commonwealth of Virginia. Vince leads the singing in the Major Degrees as well.