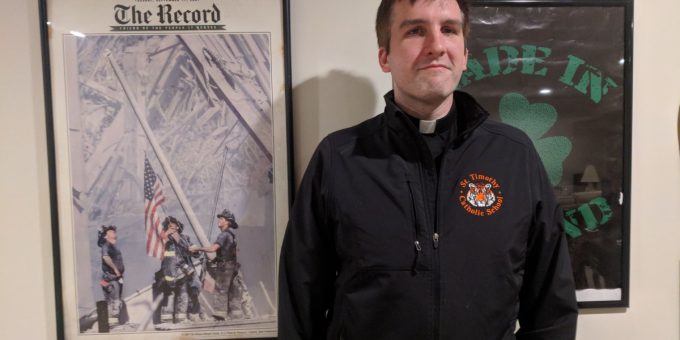 24 October 2019
Dear AOH Brothers,
My name is Fr. Joe Farrell and I am excited to take on a new role as State Chaplain for our fraternity. Having joined the AOH several years ago, I have had the privilege of serving as the chaplain for the Col. Cunningham Division in Loudoun County. Now, as state chaplain, I look forward to serving all the Hibernians of Virginia.
I am of Irish descent both on my father's Farrell side and my mother's side (Kern). My great-great grandparents came to this country during the vast Irish migration looking for opportunity like so many others. Although we are Americans many generations over, my family has always kept its Irish heritage alive.
My priority is to help foster a love for our Catholic Faith which should be the greatest source of pride deriving from our Irish heritage. It is the Faith that kept Ireland strong in the face of intense persecution over centuries. Furthermore, the American Catholic experience is largely influenced and driven by Irish immigrants to our country.
We also know that the past few decades have been very difficult for Catholics in our ancestral homeland. Just has Irish missionaries strengthened the faith in America, we should turn our attention to anything we can do for our brothers and sisters in Ireland in helping them rekindle the fire a Catholicism that dates back over 1700 years.
Finally, just in case we meet in the pub, I prefer Smithwicks Irish Ale to Guinness, and I haven't met an Irish whiskey I haven't enjoyed.
I look forward to meeting many of you in the coming months, and know of my daily prayers for each and all.
Fr. Joe Farrell
State Chaplain
Ancient Order of Hibernians