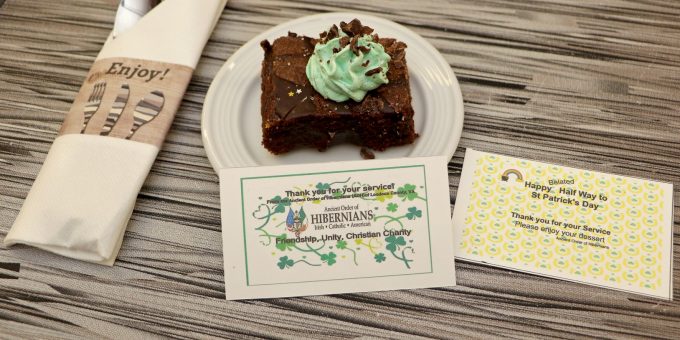 Top of the morning to you all Gents-
It was a great day today at the VA Medical Center in Martinsburg, WV.
With help for Nutrition Dept and Kitchen Staff and Patient Voluntary Services – we provided a delicious lunchtime dessert to all in the VAMC – Martinsburg, WV today.
(Left to right)
Darcy Rae – Assistant Chief, Nutrition and Food Services
Terry Stotler – Chief, Voluntary Services
Tim Melia – Hibernian and VAMC Liaison
Christine Campos-Espinosa – Assistant Chief, Canteen Services
Photo Credit – Tony Barnett – Public Affairs Department
In-house number of patients continues to be smaller than typical due to Covid-19, but we provided 150 desserts today to bolster the spirits of both patients and medical staff and facility staff. Desserts were plated with another beautiful "Thank You for Your Service Card" from our Loudoun County Division.