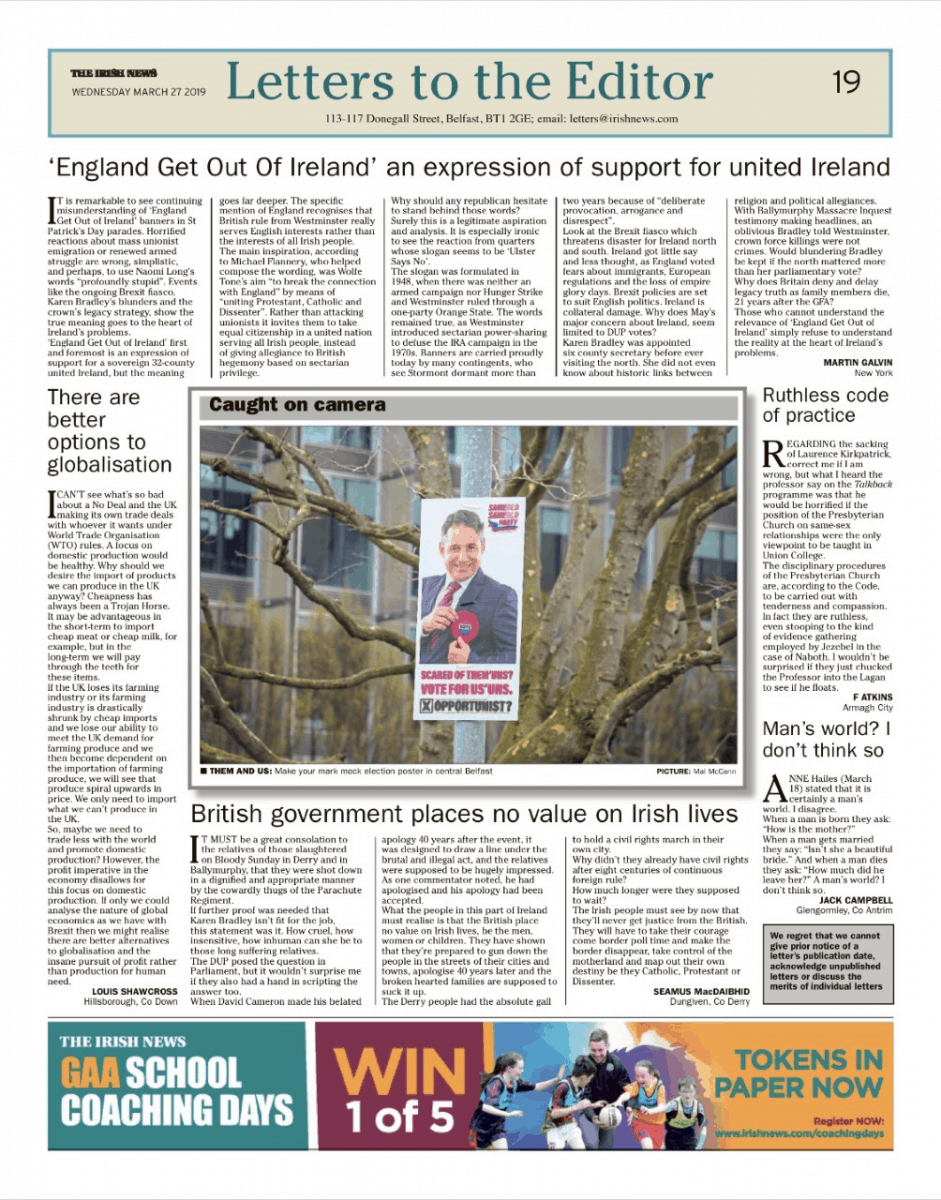 Passed along from FFAI co-chairman Jim McLaughlin
MARTIN GALVIN
ATTORNEY AT LAW
903F SHERIDAN AVENUE
BRONX, NEW YORK, 10451
718-665-1800
EDITOR
IRISH NEWS
113-117 Donegal Street
BELFAST, Northern IRELAND
March 14,2019
WHAT ENGLAND GET OUT OF IRELAND MEANS
A chara
It is remarkable to see continuing misunderstanding of "England Get Out of Ireland" banners in St. Patrick's Day Parades. Horrified reactions about mass unionist emigration or renewed armed struggle are wrong, simplistic, and perhaps, to use Naomi Long's words, "profoundly stupid". Events like the ongoing Brexit fiasco, Karen Bradley's blunders and the crown's legacy strategy, show the true meaning goes to the heart of Ireland's problems.
"England Get Out of Ireland" first and foremost is an expression of support for a sovereign 32 county united Ireland, but the meaning goes far deeper. The specific mention of England recognizes that British rule from Westminster really serves English interests rather than the interests of all Irish people.
The main inspiration, according to Michael Flannery, who helped compose the wording, was Wolfe Tone's aim "to break the connection with England" by means of "uniting Protestant, Catholic and Dissenter." Rather than attacking unionists it invites them to take equal citizenship in a united nation serving all Irish people, instead of giving allegiance to British hegemony based on sectarian privilege.
Why should any Republican hesitate to stand behind those words? Surely this is a legitimate aspiration and analysis. It is especially ironic to see the reaction from quarters whose slogan seems to be "Ulster Says No!"
The slogan was formulated in 1948, when there was neither an armed campaign nor hunger strike and Westminster ruled through a one party Orange State. The words remained true, as Westminster introduced sectarian power -sharing to defuse the IRA campaign in the 1970s.Banners are carried proudly today by many contingents, who see Stormont dormant more than two years because of "deliberate provocation, arrogance and disrespect".
Look at the Brexit fiasco which threatens disaster for Ireland north and south. Ireland got little say and less thought, as England voted fears about immigrants, European regulations and the loss of empire glory days. Brexit policies are set to suit English politics. Ireland is collateral damage. Why does May's major concern about Ireland, seem limited to DUP votes?
Karen Bradley was appointed six county secretary before ever visiting the north. She did not even know about historic links between religion and political allegiances. With Ballymurphy Massacre Inquest testimony making headlines, an oblivious Bradley told Westminster, crown force killings were not crimes. Would blundering Bradley be kept if the north mattered more than her parliamentary vote?
Why does Britain deny and delay legacy truth as family members die, twenty-one years after the Good Friday Agreement?
Those who cannot understand the relevance of "England Get Out of Ireland" simply refuse to understand the reality at the heart of Ireland's problems.
Slan
MARTIN GALVIN